Matt "The Terror" Serra Calls It A Career…
[ UFC 160 - Forrest Griffin  ] : "Everybody Loves An Original"

Last night at the UFC 160 post fight conference, the "Original" Ultimate Fighter, Forrest Griffin announced his retirement. Forrest was forced to pull out of 2 of his last 3 fights due to injuries, most recently in December of 2012 he suffered a torn MCL and an ACL strain.
We think this was a good call for the 33 year-old, he's got nothing left to prove. He'll always be remembered for his huge heart, both in and out of the cage. 
Team Injury-Duty would like to wish Forrest all the best in his future endeavors!
[ UFC on FUELtv- 9 - Gegard "The Dreamcatcher" Mousasi  ] : "Get The Heads Ringin'"
[ UFC- 156 - Antonio "BIGfoot" Silva vs. Alistair Overeem ] : "The Reem Meets The Reaper"
[ UFConFOX - Anthony "ShowTime" Pettis ] : "The Kick Heard 'Round The World"
Pettis faces the always dangerous Donald "The Cowboy" Cerrone, tonight on FOX. Best part, it's FREE!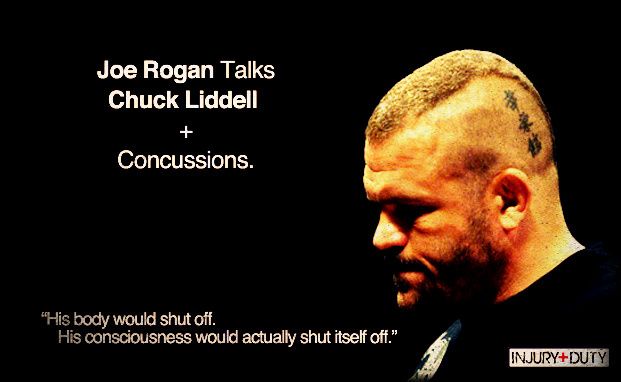 It's always fun to hear Joe Rogan drop tidbits of information about interesting conversations he's had with fighters. And, most recently during episode #311 of the JRE Podcast, Rogan shared a little about a conversation he had with the legendary Chuck "The Ice-Man" Liddell in regards to his thought about getting KO'ed, and his inability to take punishment towards the latter part of his career. Take a listen:
[ UFConFX - Brazil ] : The Way We See The Main Card Going Down (30-8) …
Michael Bisping vs. Vitor Belfort
Ben Rothwell vs. Gabriel Gonzaga
Daniel Sarafian vs. CB Dolloway
[ Can't Call It] : Who Has The Better Post-Fight Game Face? Rose Namajunas or Pat Barry?!
Who DOESN'T love a little HD?
[ UFConFOX 5 ] : The Way We See The Main Card Going Down (27-8) …
Benson Henderson vs. Nate Diaz
Alexander Gustafsson vs. Mauricio Rua
Rory MacDonald vs. BJ Penn